2021 Report: The Future of the Best Place to Work
Over the past eighteen months, people have been re-evaluating their priorities and reassessing their relationship with their jobs. Freedom and personal control now feel more vital, gaining mindshare that might previously have gone toward money, perks, or titles.
Brimstone and our partners at Entromy conducted a survey of workers from around the world to learn about the expectations people have for organizations and for the work environment and understand what actions leaders can take to make their organization a "great place to work."
The biggest takeaways from our survey are that flexibility is top of mind and that Managers and Senior Executives have differing perceptions with respect to the organization and to actions being taken to make the organization a great place to work.
Respondents identified flexibility as a challenge and an opportunity. To differentiate the organization, engage employees, and to attract and retain talent, leaders need to create and sustain new work structures that enable flexibility.
The data highlighted a gap between the perceptions of Senior Executives and those in other roles. For example, While the majority (79%) of respondents reported that their company "is a great place to work," Senior Executives were more likely to agree or strongly agree (85%) with this statement than Managers (67%). Further, while 82% of Senior Executives responded that their organization is taking the right actions to make their organization a great place to work just 42% of Managers.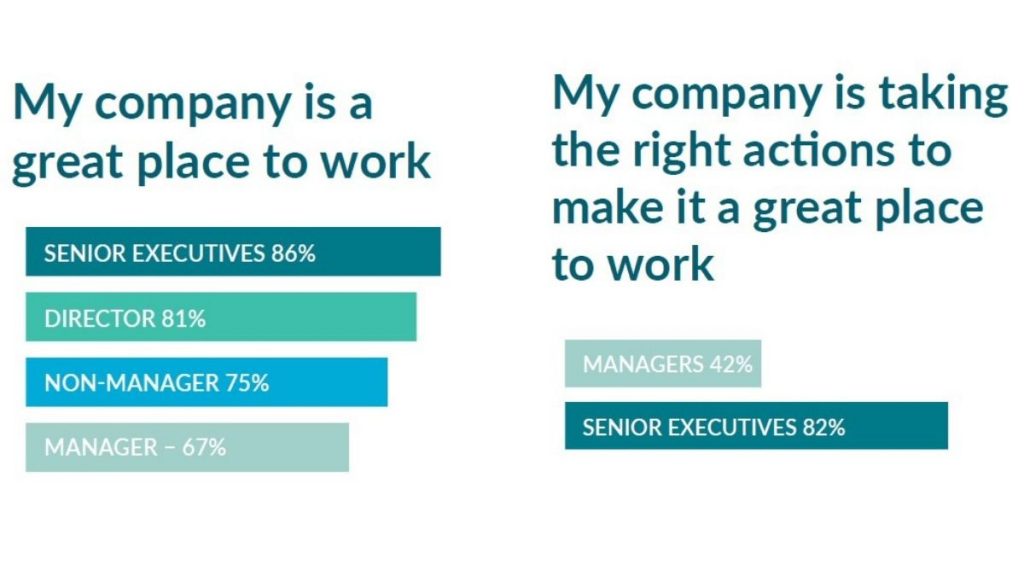 These findings are not surprising. Research by organizations including Leadership IQ, Kotter, and Boyen have similarly identified a lack of alignment in leadership and within organizations. There is a need to create and adapt to new work structures and for focus to be placed on organizational alignment. Specifically, Senior Executives need to take steps to understand the perspectives of their teams and their organization, and align on goals, objectives, and on the culture of the organization. Together, these actions will help leaders create and sustain a great place to work and differentiate their organization so they can attract and retain talent.